Paula, the lady of the house at Okkola, invites you to her home where the woodburning oven is the heart of the house and the family history evident all around you.
The humble, but majestic, Karelian pie is a living legend from Eastern Finland. A curiosity for many foreigners, this rye-crusted pie filled with creamy rice porridge is cooked in a tradional wood burning oven and served with lashings of egg-butter. Hearty and delicious, this pastry has been made in the region for centuries and is an important part of Saimaa's cultural and gastronomic heritage.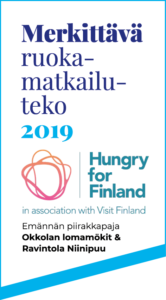 In Okkola farmwife's pie workshop you´ll discover the old art of making tasty karelian pies! The hostess, Paula, will guide you through the knicks and knacks of baking these traditional delicacies with old family recipes.
Visitors to the pie workshop will also experience a genuine Finnish country home.
At the Okkola farmwife's cottage, visitors will learn about rural entrepreneurship, local flavours and genuine Savo hospitality. The farmwife's pies have all the scents and flavours to get the mouth-watering and the mood lifted.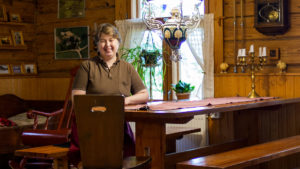 More information and reservations HERE.
D.O. Saimaa – 100 % excellence from the Saimaa region
D.O. Saimaa is Finland's first trademark depicting regional quality and origin
The 'excellence' mentioned in the trademark's slogan does not only refer to the products' high quality and responsibility, but also a positive effect on the environment, culture and regional vitality. Consumers, restaurants and retailers using products or raw materials marked with D.O. Saimaa know that they are making an ethical and responsible choice.
All the Saimaa Gastronomy restaurants also carry the D.O. Saimaa trademark. In other words, they respect the origins, purity and high quality of their raw materials.