Bitte sehr, der Tisch ist gedeckt!
Leckere Geschichten verbinden die Freunde guten Essens
Hotelli Punkaharju | Sahanlahti Resort | TeaHouse of Wehmais | Tertin Kartano
Jedes Saimaa Gastronomy -Unternehmen hat seine ureigene Geschichte.
Seien Sie unser Gast und lernen Sie uns kennen.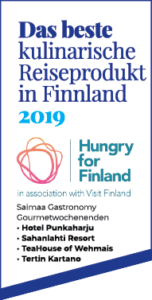 Hotel Punkaharju führt in die Welt der Genüsse in einer finnischen Nationallandschaft
Die Gastgeberin des Hotels, Saimi Hoyer, war früher ein glitzerndes Topmodel auf den Catwalks der Welt. Nach ihrer Rückkehr aus den Welt-Metropolen nach Finnland zog Saimi in die geliebten Sommerlandschaften ihrer Kindheit nach Punkaharju. Als das ehemalige Staatshotel Punkaharju zum Verkauf stand, beschlossen Saimi und ihr damaliger Mann Thomas Hoyer, eines unserer nationalen Kulturgüter zu restaurieren.
"Punkaharju und das gesamte Saimaa-Gebiet waren den Touristen viel zu lange verborgen. Als jemand, der lange Zeit im Ausland gelebt hat, sehe ich das Hotel Punkaharju als einen Ort, wo Menschen die Stille der Natur und ihre Schätze genießen können."
Aus dem Restaurant des Hotels Punkaharju wurde ein Platz, wo Kostbarkeiten von den Nachbarhöfen, aus den Wäldern um das Hotel herum und vom Saimaa-See angeboten werden.  Das Hotel Punkaharju ist besonders bekannt für den vielseitigen und pfiffigen Einsatz von Pilzen.
Die besten Bissen am Saimaa im Sahanlahti Resort
Sahanlahti, eines der ältesten Sägewerke des Saimaa-Gebiets, entstand um die in den 1740er Jahren errichtete, heute bereits verschwundene Wassermühle. Der Sägewerksbetrieb in der Region Sahanlahti wurde fast 200 Jahre lang ausgeübt.
Heutzutage ist Sahanlahti ein namhaftes und traditionsreiches Tourismuszentrum, an einem großartigen Platz in Puumala gelegen, knapp eine Stunde Fahrzeit von Savonlinna, Mikkeli und Imatra entfernt. Die einmalige und kulturhistorisch einzigartige Sägewerksumgebung am Ufer des Saimaa-Sees und die modern ausgestatteten Räumlichkeiten schaffen ein prächtiges Ensemble für Urlaub und Festlichkeiten. Die sich von der Terrasse des Koskivahti-Restaurants eröffnende Aussicht auf den Saimaa wird weltweit als einzigartig beschrieben – nicht umsonst, denn etwas ebenbürtiges ist noch nicht vorgekommen.
Sahanlahti wird heute von dem Unternehmer-Ehepaar Jaana und Janne Kuivalainen als Gastgeber bewirtschaftet. Sie haben mit ihrer beharrlichen Arbeit den Betrieb erneuert und Sahanlahti zu einem der besten kulinarischen Tourismusziele unseres Landes erhoben. In Sahanlahti haben sie eine warme und familiäre Atmosphäre geschaffen, wo sich die Gäste wohl und willkommen fühlen.
Sahanlahti wurde als kulinarisches Tourismusunternehmen des Jahres 2014 in Süd-Savo ausgezeichnet und Sahanlahti ist auch Gästehafen des Jahres 2015 in den Gewässern des Vuoksi.  Mit dem auf die internationalen Märkte strebenden Produkt schnappte sich Sahanlahti den Preis im Spitzenproduktwettbewerb von Visit Finland im Jahr 2017.
Das TeaHouse of Wehmais fasziniert in idyllischer Provinzlandschaft
Anna Grotenfelt-Paunonen, die Gastgeberin von TeaHouse of Wehmais, gründete das erste und weiterhin einzige, auf die englische Teetradition spezialisierte Teehaus Finnlands im Herbst 2010. Das Teehaus im Stallgebäude des Hofbereichs des Gutshofes Wehmaa ist mit Rosenstoffen und Blumentapeten eingerichtet und in den charaktervollen Zimmern kann man u. a. echte Afternoon Tea – und Cream Tea -Gedecke genießen. Anna ist von ihrer Ausbildung eine der zwei Tee-Sommeliers Finnlands und sie hat die etwa 100 Teequalitäten umfassende Auswahl persönlich getroffen. Hier findet sich für jeden der eigene Favorit, auch zum Mitnehmen. Am anderen Ende des Gebäudes ist der Deli & Deco -Laden, zu dessen Angebot Speiseerzeugnisse, Bioprodukte sowie hochwertige Einrichtungsgegenstände gehören.
Bereits die Anfahrt zum Teehaus ist ein Erlebnis. Von der inmitten schöner Provinzlandschaft verlaufenden Landstraße zweigt ein romantischer Birkenweg in Richtung Gutshof Wehmaa ab, an dessen Seite sich ein prächtiges steinernes Stallgebäude befindet. Im Sommer können Gäste das friedliche Biomilchvieh entweder auf den Weiden bewundern, die sich um den Hof schmiegen, oder auch einen Blick in den Stall werfen. Auf der Tenne des Stallgebäudes und im Hofbereich werden das Jahr über verschiedene Ereignisse und Veranstaltungen organisiert. So bringt der traditionelle Weihnachtsmarkt von Wehmaa die Kleinerzeuger der Region in der romantischen ländlichen Umgebung zusammen. Anna hat in unermüdlicher Arbeit und mit gutem Geschmack auf dem Gutshof Wehmaa eines der besten kulinarischen Tourismus-ziele Finnlands aufgebaut.
Tertin Kartano lädt zu einer modernen kulinarischen Reise
Das aktuelle Gastgeberpaar Matti und Pepita Pylkkänen begann im Jahr 1978 den Familienbesitz Tertti zu Finnlands führendem Hof für Tourismus und Spezialkulturen zu entwickeln.  Auf dem Gutshof Tertti wurde ein Gutshofrestaurant eröffnet, der Hofbereich und die nähere Umgebung wurden im Stil des späten 19. Jahrhunderts gestaltet und ein Hof-Café mit Boutique errichtet. Die Gaben der eigenen Felder, Gemüsebeete und Gärten werden zu hochwertigen Gourmet-Produkten veredelt und für den Genuss der Restaurantbesucher konserviert. Inspiriert von den langen Speisetraditionen wurde auch ein eigenes Kochbuch veröffentlicht.
Auf dem im 16. Jahrhundert begründeten Reiterhof wurden bereits seit Jahrhunderten die Felder bestellt, Pferde und Schafegezüchtet sowie Milchvieh gehalten. Im Laufe der Jahre hat der Hof als Schafzuchtbetrieb gedient, eine eigene Molkerei und sogar Molkereischule betrieben. In den glanzvollen Sälen des Herrenhauses und auf den Ländereien des Gutshofes war stets eine große Anzahl Menschen anzutreffen. Außer den eigenen Arbeitern waren die Stäbe im Winter- und Fortsetzungskrieg auf dem Gutshof Tertti tätig. In der Küche von Tertti wurde auch über die Jahrhunderte gelehrt, hochwertige Speisen für die Präsidenten unseres Landes und andere Ehrengäste sowie alle Freunde guten Essens zuzubereiten. Die Gaben des eigenen Bodens spielten stets eine große Rolle im Alltag und auf Festen des Gutshofes. Die lange Tradition und beharrliche Arbeit haben den Gutshof Tertti zu einem der besten kulinarischen Tourismusziele Finnlands erhoben.